Artelingua è un'idea che nasce dall'esperienza di insegnamento in ambito universitario e mette insieme molte altre esperienze creative e originali nell'insegnamento di una lingua straniera.
Elisa Bassetti – Coordinatrice e docente Italiano L2
Elisa è specializzata nell'insegnamento di una lingua straniera presso l'Università per Stranieri di Siena ed è un'esperta docente di Italiano come lingua seconda. Dal 2008 al 2012 ha collaborato nel programma e-learning dell'Università per Stranieri di Perugia per l'insegnamento della lingua italiana online. Ha all'attivo diverse pubblicazioni sulla didattica della lingua italiana e delle lingue in generale, coordina programmi didattici e culturali per diverse università all'estero e enti culturali. Nel 2012 ha fondato Artelingua. E non è poco!
Tamara Petriachi – Docente Italiano L2
Tamara è laureata in Lingue e Letterature Straniere presso l'Università di Bologna e specializzata in Lingua e Cultura Italiana presso l'Università per Stranieri di Perugia. Inoltre, nel 2015 ha conseguito anche il Master in Didattica della Lingua Italiana presso la Stranieri di Perugia. E' creativa, sempre sorridente…e una gran chiacchierona!
Daniel Morris – ESL Head teacher
Daniel is from Cornwall in the south-west of England and has been living in Italy since 2005, when he qualified as CELTA English teacher. His passions include: the environment, theatre and all things nerdy. He's been an elementary and middle school teacher in an international school in Rome, and has great experience with companies as well. There's a thing we particularly like about him, or perhaps two. Daniel has plenty of original ideas to make learning fun and effective, and a cat called Gwini too!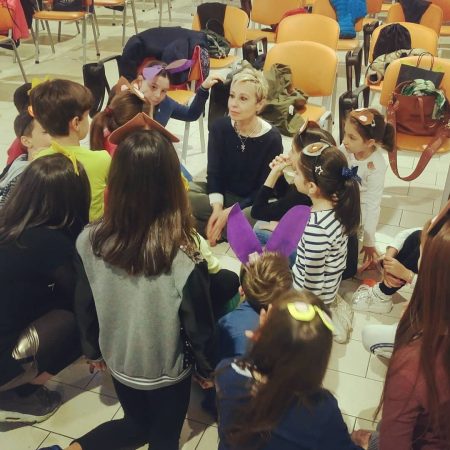 Porzia Addabbo – Theatre and movie director, trainer, English L2
Studied direction at the Accademia Nazionale D'Arte Drammatica Silvio D'Amico and History of Theatre at Università La Sapienza. Among her works, the Bohème (read more from New York Times) was the hit of Opera Ireland's season in 2006 and toured until the Italian coming back in 2007 winning the Opera Europa Prize for best production. Creator of L'Inglese Va al Teatro, a drama project oriented to English language learning, successfully promoted in the region, Porzia is an inexhaustible researcher…