Artelingua Language School is the culmination of experienced certified foreign language teachers  who have joined together to offer proven Italian full-immersion for non-Italians.
Elisa Bassetti – Owner and Italian L2/ English ESL teacher and coordinator
Elisa Bassetti is a qualified Italian language teacher, specialized in teaching Italian Language and Culture as a second and foreign language from the University for Foreigners of Perugia and Siena as well.
She has worked as an Instructional designer on the e-learning program of the University for Foreigners of Perugia
and in 2012 founded Artelingua in her hometown of  Spoleto.
She is also a qualified CELTA teacher.
Tamara Petriachi –  Italian L2 and content writer
Tamara graduated in foreign languages and literature at the University of Bologna, specialised in teaching Italian as 2L and FL. She has got a Master in Teaching Italian language and culture at the University of Perugia. She is a certified CELI examiner. Tamara is also the writer and the creator of the many exclusive contents of Artelingua original materials, Gusto, Parolando and much more. Super eclectic, always smiling, and wonderfully…talkative!
Kelly Rayner – English L2, ESL Certification trainer
Born and bred Australian, with a passion for travel and the sharing of knowledge has taken Kelly around the world. Having worked in the private sector for over 25 years at a senior level, the choice to change careers and follow her desire to teach was an easy one to make. She completed her diploma in TEFL and is currently finishing her BA in International Aid and Development through Murdoch University. This gives her the understanding needed to teach within different cultures, empowering students with skills and knowledge that can make a lasting difference in their lives.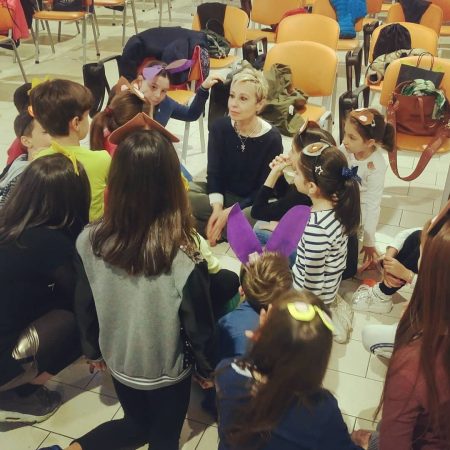 Porzia Addabbo – Theatre and movie director, trainer, English L2
Studied direction at the Accademia Nazionale D'Arte Drammatica Silvio D'Amico and History of Theatre at Università La Sapienza. Among her works, the Bohème (read more from New York Times) was the hit of Opera Ireland's season in 2006 and toured until the Italian coming back in 2007 winning the Opera Europa Prize for best production. Creator of L'Inglese Va al Teatro, a drama project oriented to English language learning, successfully promoted in the region, Porzia is an inexhaustible researcher…

Justin Douglas – English L2, ESL Certification trainer
Justin grew up in London and graduated with a BA Hons. degree in History and Politics before starting his career in Finance. He moved to Italy to be with his wife. He is a fully qualified Mother Tongue English teacher and is an Associate of The College of Teachers in London where he achieved his qualification to teach English to speakers of other languages. He has many years experience in teaching all levels of English in both state and private schools, specially in helping students wishing to take IELTS, Cambridge, Trinity, Bulats, Toefl exams. Justin loves teaching and is very adaptable ,creative with his lessons tries to make learning English fun.'