Experience post-war Italian cinema from the second World War up until the sixties.
Experience post-war Italian cinema from the second World War up until the sixties. From De Sica to Sorrentino; through Fellini and Antonioni, the course is designed to explore certain period, a particular school or trend and the projection of one of the most representative films of the period.
Objectives:
The course aims to provide a description of Italian cinema as a manifestation of the culture of the country. The teachers, all with a specific university training in Italian and international cinema, guide students along paths beginning from the analysis of film techniques through the more strictly artistic and cultural aspects.
Who it's for:
This Film Course is for lovers of cinema, for fans, and for those who want to learn about contemporary Italy years through one of its major cultural events.
Only original and exclusive materials.
Classes can be held: in Italian, English, Italian and English.
The Contemporary Italy Film Course can be included or blended in other courses.
Special topic sessions are also available in modules.
 Nuovo Corso di Cinema Avanzato 10 ore – 28 agosto 2023 – Special price €340,00
DATES: 20/26 March 2023 – 3/9 July 2023 – August 28 2023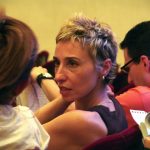 The course is held and coordinated by the Theater and Cinema Director Porzia Addabbo. Studied direction at the Accademia Nazionale D'Arte Drammatica Silvio D'Amico and History of Theatre at Università La Sapienza. Among her works, the Bohème (read more from New York Times) was the hit of Opera Ireland's season in 2006 and toured until the Italian coming back in 2007 winning the Opera Europa Prize for best production. All materials used are original and exclusive.

Nicholas Sanchez, USA
"I spent last July/August taking private lessons with Elisa and Porzia at Artelingua, and I had a wonderful time. The school is a warm, intimate place for learning Italian (same goes for the city of Spoleto). Elisa is a highly-trained, experienced Italian instructor with a sharp sense of humor. She's also a local who knows Spoleto like the back of her hand and goes out of her way to build a sense of community among her diverse students. My classes with Porzia, meanwhile, were special; she took me on a month-long tour of Italian cinema that felt both like a university course and an extended conversation with a dear friend. I loved it. I can't recommend this school and town enough if you are looking to improve your Italian while escaping the tourist hordes. Grazie mille, Elisa e Porzia. Vi mando un abbraccio da Atlanta! Alla prossima…!"