Acting and improvisational Theater with professional actors and experts in Theater and Drama.
These drama classes allow students to create particular situations in which they exercise their language skills. In fact, the aim of the course is to make sure that participants are able to exercise their language skills in an original and inspiring communicative situation. Acting and improvisational theater are therefore part of the program.
The teachers of the course are professional actors who specialize in teaching acting techniques and design enjoyable and challenging communicative exercises.
Who it's for. This course is geared towards those who wish to practice the language by living the experience of theater. The lessons are designed both for students who have already had some experience in theater, and also for those who have never tried to act.
Only original and exclusive materials.
Classes can be held: in Italian, English, Italian and English.
The Contemporary Italy Film Course can be included or blended in other courses.
Special topic sessions are also available in modules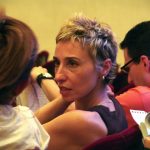 All materials used are original and exclusive.