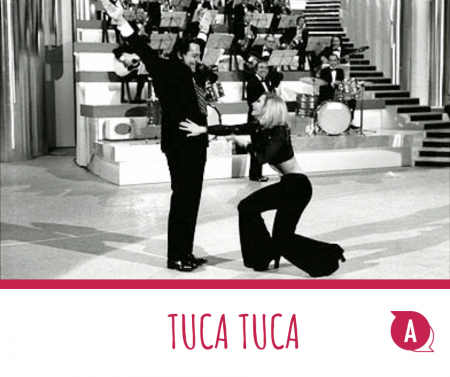 TucaTuca è il ballo/canzone con cui la ballerina, cantante e presentatrice TV Raffaella Carrà scandalizzò e sedusse l'Italia.
Venne cantato e ballato per la prima volta nel 1971, durante "Canzonissima", un popolare programma del sabato sera della Rai in bianco e nero.
Era una canzone molto ammiccante e trasgressiva per le regole della tv pubblica dell'epoca, al punto che per continuare a cantare e ballare il "Tuca Tuca" fu necessario far intervenire il grande attore Alberto Sordi, che con la sua ironia sdrammatizzò quelle movenze sexy che avevano suscitato tanto clamore e fatto muovere la censura.
Lo avete mai ballato? Proviamo a farlo insieme!
LETTURA: LIVELLO AVANZATO
ATTIVITA': LIVELLO ELEMENTARE – Le parti del corpo
Subscribe Artelingua's Newsletter for more original content made with love by Artelingua's team. Every week free exclusive materials to learn Italian and to keep up with Umbrian events and culture!